Includes a free router for either service. Installation in 2-3 weeks! Subject to availability.
Business T1 Line Service, Bonded T1 Internet
and Point-to-Point Business T1 Access in Los Angeles and California.
Connect to DigiLink and tap into an extremely well engineered and supported network.
- Is it time to replace your current DSL connection with a T1 line?
- Are you moving to new office space and require a new business T1 installation?
- Do you require high speed T1 internet service to support your commercial applications or large number of users?

From ordering to installation, you can rely on DigiLink to provide your business or organization with fast and reliable T1 Internet services.

If you are looking for your own personal line of bandwidth, DigiLink offers excellence in T1 service. Consider it similar to having your own lane on the freeway, dedicated to you, with no one able to share, or interfere with your ability to pass traffic.
T1 Service Packages

Full T1 line

Bonded T1 line

Speed

1.5 mbps

3.0 - 9.0 Mbps

Price

as low as $200/mo

as low as $400/mo

Router

Included (with 3 year agreement)††
Now offering Native IPv6 support.
Up to 8 IPv6 network (/61) address space for no addidtional charge.
Bandwidth for a full Business T1 line from DigiLink is 1.5 megabits per second, for both uploads and downloads (simultaneously, as our Business T1 service is full duplex).
For businesses that require higher bandwidth we provide Bonded T1 Service, which is two or more T1 lines joined together for aggregated bandwidth up to 9.0 Mbps.
Beyond 9.0 Mbps please consider our Business T3 Service, usually more cost efficient path. We also proudly offer state of the art Dedicated Wireless Connectivity options for businesses located within 10 mile radius from Marina del Rey, CA.
A Dedicated Internet T1 from DigiLink provides fast and reliable internet access for your business or organization. We offer our standard T1 service with local loop included. We also offer T1 ports and point to point private T1 lines for businesses that desire to arrange for their own T1 data transport.
Included with our Business T1 Service
T1 Connectivity
Up to 16 static IPv4 addresses included (larger blocks available)

Up to 8 IPv6 network (/61) address space for no addidtional charge.

Full duplex transmission, end to end CIR
QoS available for VoIP
Option of DSL or wireless backup service†
Proactive circuit monitoring
24 x 7 technical support
Free router (with 3 year agreement)††
At DigiLink, we engineer high performance service directly from your business to the core of our fully switched network, via carrier class fiber optic connections. This results in completely uncongested T1 connectivity with one hop onto the internet, without the need to go through failure prone remote Points of Presence.
Los Angeles ISP since 1994, we can bring our experience to the table, solving your problems quickly and efficiently.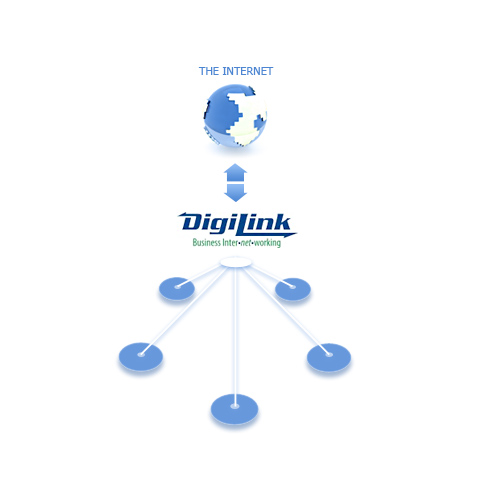 We ensure that dedicated bandwidth is available at the backend through our multiple Tier 1 connections making sure that you can, if required, max out this connection 24x7.
Priority Local Loop Support
The local loop (or "last mile") of most circuits is provided by your local telephone company. Fortunately, when you procure your services from DigiLink, you don't get stuck having deal with the phone company. We will procure services from them on your behalf, and supervise the installation. Should a problem arise with your local loop, we deal with the phone company on your behalf. It is important to note that the phone company holds itself to different standards of responsiveness depending upon the circuit type. DSL service is considered by the major telecommunications companies to be a low-end residential class service, and as such, they generally make few guarantees about how quickly they will respond to problems with DSL loops.
On the other hand, T1 circuits are treated as mission critical business services, and outages are responded to relatively quickly (typically within a couple of business hours). Get the reliability of a T1 circuit, with high data throughput, and the service you can only get from your Local ISP.
Installation time for a business T1 line is typically within 10 business days.
Local loop charges are included in the above figures. Installation is based on delivery of service to the customer's Minimum Point of Entry (MPOE)
Any applicable federal, state, and local taxes and/or fees are not included in the above figures. Any such taxes and/or fees will be billed to customer.
† Subject to availability, additional charges apply.
†† Free router rental at no charge with 3 year agreeement.